The GR-100 is Bridgestone's most comfortable tire to date, featuring advanced technologies and decades of accumulated R&D to complement the performance of world-class luxury sedans. The GR-100 promises to transform your everyday ride into an enjoyable experience highlighted by moments of relaxation.
Asymmetric Pattern
The interior tread pattern features grooves that have been placed closer to the inside of the tire to greatly improve the dispersion of water for easy, comfortable handling in rain.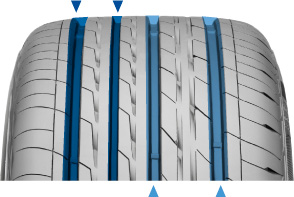 The outer tread makes use of an enlarged size block that improves stability for confident driving comfort on highways and in straightaways.
Asymmetric Sidewalls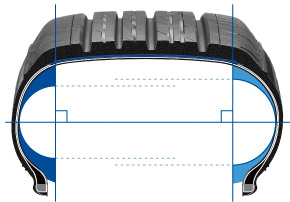 By changing the shape of the sidewalls on the GR-100, you can enjoy outstanding straight-line traveling dynamics. The asymmetric design also suppresses the lateral forces caused by uneven or undulating roads, so what you feel behind the wheel is comfort and confidence.

Making the GR-100 our most advanced noise reducing tire required a two-faceted approach. First we created technologies to minimize the production of noise and then we implemented ways to minimize the transmission of noise into the cabin.
Silent AC Block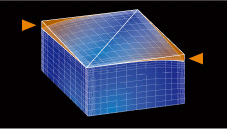 The Silent AC Block features a rounded 3D design that optimizes contact with the road to minimize the production of noise. This design also remains effective as the tires wear.
3D Helmholtz Resonator
The newly developed 3D Helmholtz Resonator creates a natural vacuum that pulls air from the grooves to minimize the production of noise. And since it is more compact than previous systems, additional resonators have been placed on all four of the grooves to disperse air pressure for a truly quiet, comfortable ride.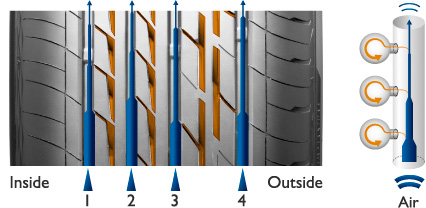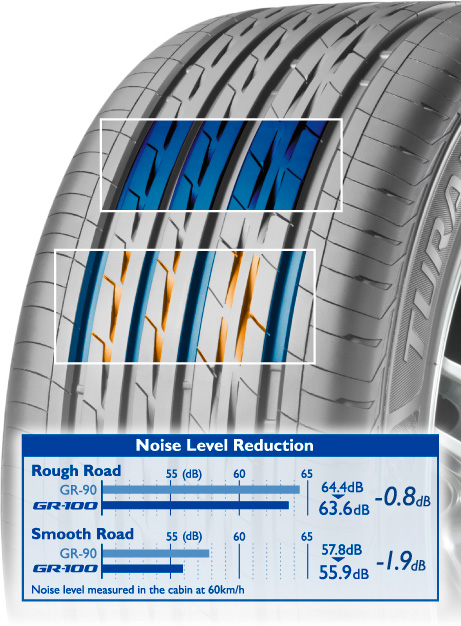 3D Diamond Pattern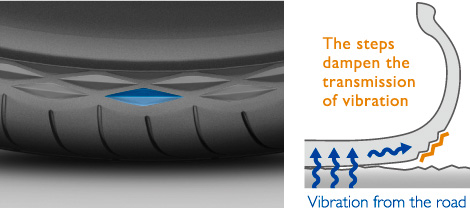 Vibration generated through contact with the road is a major source of cabin noise. The newly developed 3D Diamond Pattern on the inside of the tire creates a step that dampens vibration to prevent it from passing through the tire to become noise, thus realizing superior quietness.

The world-class Bridgestone technology featured in the GR-100 assures you feel confident throughout your journey.
Advanced Compound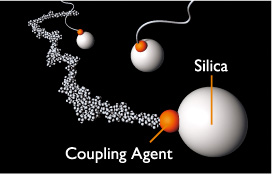 The GR-100 uses an advanced silica compound that has been designed to deliver excellent performance on wet and dry roads, while reducing rolling resistance for better fuel efficiency.
Square Shoulder Design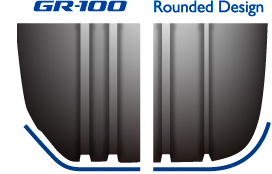 The Square Shoulder design ensures a flatter contact surface to minimize irregular wear for complete confidence on the road.
Size line-up
| Inch | Size | LI / SS | PR |
| --- | --- | --- | --- |
| 19 | 275/40R19 | 101W | |
| | 245/40R19 | 94W | |
| | 255/45R19 | 100W | |
| | 245/45R19 | 98W | |
| 18 | 245/40R18 | 93W | |
| | 225/40R18 | 88W | |
| | 275/45R18 | 103W | |
| | 255/45R18 | 103W | XL |
| | 245/45R18 | 100W | XL |
| | 225/45R18 | 91W | |
| | 245/50R18 | 100W | |
| | 235/50R18 | 97W | |
| Inch | Size | LI / SS | PR |
| --- | --- | --- | --- |
| 17 | 245/45R17 | 95W | |
| | 235/45R17 | 97W | XL |
| | 225/45R17 | 91W | |
| | 215/45R17 | 91W | XL |
| | 225/50R17 | 94W | |
| | 215/50R17 | 91W | |
| | 235/55R17 | 99W | |
| | 225/55R17 | 97W | |
| | 215/55R17 | 94W | |
| 16 | 225/55R16 | 95V | |
| | 215/55R16 | 93V | |
| | 205/55R16 | 91V | |
| Inch | Size | LI / SS | PR |
| --- | --- | --- | --- |
| 16 | 235/60R16 | 100W | |
| | 225/60R16 | 98W | |
| | 215/60R16 | 95V | |
| | 205/60R16 | 92V | |
| | 205/65R16 | 95V | |
| 15 | 195/55R15 | 85V | |
| | 205/60R15 | 91V | |
| | 195/60R15 | 88V | |
| | 205/65R15 | 94V | |
| | 195/65R15 | 91V | |
| | 185/65R15 | 88V | |