The latest in our ECOPIA range, the EP300 is engineered for superior performance, which gives you better safety and increased savings.

| | | |
| --- | --- | --- |
| Impressive Fuel Efficiency | Superior Wet Grip | Extended Wear Life |
| Low rolling resistance means less fuel is used to move your car. | Improved tread design and compound provide enhanced grip on wet roads. | Even tread wear for longer lasting performance. |
FUEL EFFICIENCY

Through extensive testing, the low rolling resistance of EP300 proved to increase mileage by 11km per tank.

Everyday savings

Its positive effect on fuel consumption means the EP300 helps drivers save with every fill-up.

Test conditions

TUV Rheinland Chassis Dynamometer test according to UNECE-R83 and UNECE-R101, Vehicle: Toyota Camry 2.0G, Fuel Tank: 70L, Tyre size: 215/60R16, Inflation pressure: 230kpa, Drive condition: Urban (City)
---
SAFER WET GRIP

The EP300 showed improvements in safe wet performance, which is important for drivers in our climate.

Greater peace of mind

Improved grip levels mean a shorter braking distance, even on damp to wet road surfaces.

Test conditions

Test course: Bridgestone Thailand Proving Ground, Vehicle: Toyota Camry 2.0G, Tyre size: 215/60R16, Rim: 16×6.5J, Air pressure: 230kPa, Speed: 80km/hr, Water level: 2mm
---
LONG LASTING

Deeper lug depth and optimised crown shape provide long-lasting performance.

Less frequent tyre changes

Save on tyre costs in the long run.
---
DESIGN & TECHNOLOGY
NanoPro-TechTM


Our Cutting-edge compound contributes to improved wet grip and reduced rolling resistance. This is due to its high-dispersing silica that not only increases the contact area, but reduces energy loss.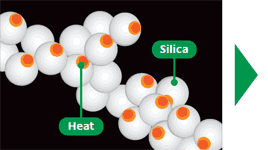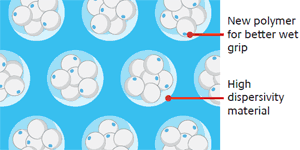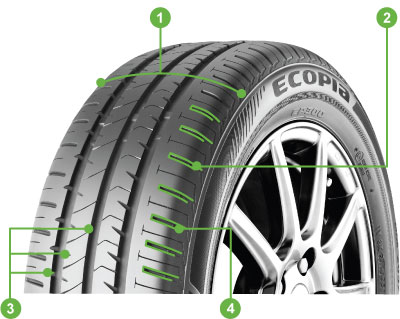 1. Optimised Crown Shape



This ensures more even contact pressure between the tyre and road surface, which contributes to better rolling resistance, wet grip and wear life.

2. Chamfering Sipe

The rounded block edge design prevents deformation to keep the contact shape flat, which in turn aids braking.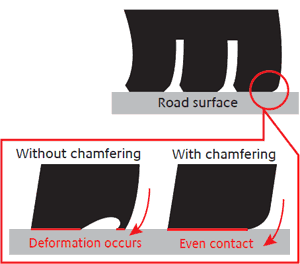 3. Round Rib Edge
By maintaining stiffness against lateral forces, inmproved contact shape and pressure distribution is achieved.
4. Deeper Lug Depth
By adopting deeper lug depth, this helps improve overall wear life of EP300

17″
091W 215/45 R17 XL *
093V 205/50 R17 XL
091V 215/50 R17 *
094V 225/50 R17 *
094V 215/55 R17 *
097V 225/55 R17 *
16″
084V 195/50 R16
083V 185/55 R16
087V 195/55 R16
091V 205/55 R16
089H 195/60 R16
092V 205/60 R16
095V 215/60 R16
15″
082V 195/50 R15
082V 185/55 R15
085V 195/55 R15
084V 185/60 R15
088V 195/60 R15
091V 205/60 R15
084H 175/65 R15
088H 185/65 R15
091V 195/65 R15
094V 205/65 R15
096V 215/65 R15

* 4 grooves version
---