Boasting faster lap times and an extended tyre life, the POTENZA RE-71RS tyre is now faster than before. This signature sports tyre delivers a thrilling steering experience through superior cornering grip performance, precise handling, and enhanced durability.


Exceptional Dry Grip for Track Driving
High grip polymer maximises tyre performance through optimizing the contact areas between tyre thread and road surface.

High Speed Stability and Steering Precision
Low Angle Grooves and Optimized Main Grooves enhance control, delivering ultimate cornering stability.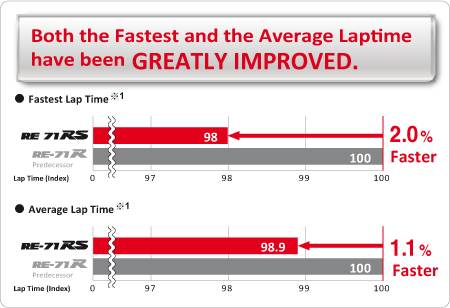 Improved Wear Life Performance
Asymmetrical tread profile and slick shoulder block improve wear life and durability for ultimate performance.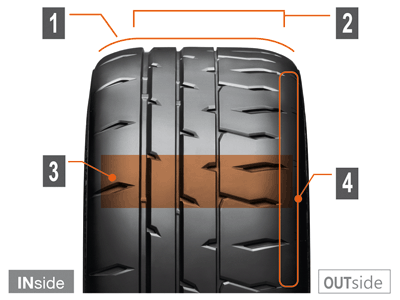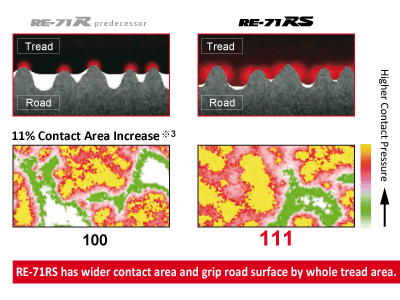 Asymmetric Tread Pattern
Each area cross the width of the tread has been optimised to maximise the contact patch. Contact pressure is also more uniform which maximises grip and wear life.
Optimised Main Grooves
The two wide main grooves on the inside of the tyre ensure high drainage for strong wet performance. The inside grooves allow tread rigidity for high grip when cornering.
Low Angle Grooves
By arranging grooves at a low angle, lateral rigidity is increased, resulting in higher steering response and grip during cornering.
Slick Shoulder Block
The large area outside shoulder block raises the cornering limit.

20″
100W 285/35 R20
097W 255/40 R20


---
19″
092W 275/30 R19
089W 265/30 R19
103W 285/35 R19 XL
096W 275/35 R19
096W 255/35 R19 XL
093W 245/35 R19 XL
091W 235/35 R19 XL
088W 225/35 R19 XL
098W 245/40 R19 XL
092W 225/40 R19 XL


---
18″
094W 295/30 R18
093W 285/30 R18
099W 295/35 R18
095W 275/35 R18
097W 265/35 R18 XL
094W 255/35 R18 XL
092W 245/35 R18 XL
099W 255/40 R18 XL
097W 245/40 R18 XL
095W 235/40 R18 XL
092W 225/40 R18 XL
089W 215/40 R18 XL
100W 245/45 R18 XL


---
17″
098W 255/40 R17 XL
091W 245/40 R17
090W 235/40 R17
083W 215/40 R17


---
16″
092V 225/50 R16
087V 205/50 R16
084V 195/50 R16
091V 205/55 R16
087V 195/55 R16


---
15″
091V 225/50 R15
086V 205/50 R15
082V 195/50 R15
073V 165/50 R15
085V 195/55 R15
082V 185/55 R15
※1 [ Test Conditions ]
Tyre Sizes: 265/35R18 97W XL
Air Pressure: 200kPa
Test Vehicle: SUBARU BRZ DBA-ZC6 2,000cc Rear wheel drive
Test Location: Tsukuba Circuit Course 2000
Driver: Our professional driver
※2 [ Test Conditions ]
Tyre Sizes: 215/45R17 91W
Air Pressure: 240kPa
Test Vehicle: Toyota 86 DBA-ZN6 2,000cc Rear wheel drive
Test Distance: 8,000km
Rotation: Implemented every 2,000km

※3 [ Test Conditions ]
Tyre Size: 215/45R17 91W
Air Pressure: 240 kPa
Test Location: Tyre dynamic contact surface analysis device in our technical centre