BRIDGESTONE Free Tyre Inflation at Sino Car Park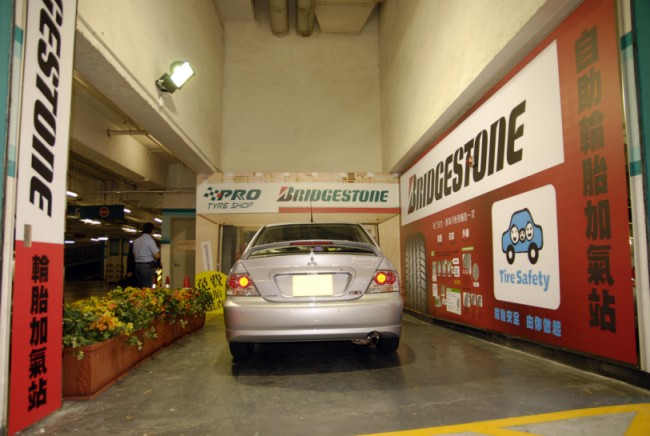 1st Station: Car Park of Olymipic City Phase II


2nd Station: Car Park of Tuen Mun City Plaza Phase I

As a socially responsible company, Tong Seng Co., Limited place high priority on road safety. Therefore, our mission is to provide Hong Kong with the safest car tire, Bridgestone, and to promote road safety awareness to all road users - pedestrian, passenger and driver alike.

Most tire problems are caused by under inflated tire, and most drivers ignore the fact that tire inflation pressure would naturally reduce over time. Therefore, Tong Seng Company, together with Sino Car Park Management Company, install the first self-service tire inflator at the car park of Olymipic City Phase II on 19th Dec. 2006. The purpose is to remind drivers to check their tire pressure, and to inflat to the correct pressure when they are using the car park.

The installed tire inflator uses the latest technology and is easy to operate. A driver only needs to enter the correct pressure as labelled in the car. The inflator will then automatically inflat and deflat to the correct pressure safely and accurately. We recommend each car owner to check their tire pressure once a month. By always keeping the correct pressure, both tire safety and tire life can be improved. Also, it saves fuel.

The second self-service tire inflator has already been installed at the car park of Tuen Mun City Plaza Phase I. It is free for all car park users. Later, we shall extent this service to Causeway Bay Sino car park as well.

Through this arrangement, both we and Sino car park wish to increase drivers' awareness on tire safety, making Hong Kong a safer place. Let us work together towards 'Zero Accidents on the Road, Hong Kong's Goal'.