Last Year BRIDGESTONE shock the automobile community by launching POTENZA RE-11 in Japan. The tire raises the performance of street tyre to unimaginable level. It also receives the best 2008 product design award in Japan. Even the legendary professional race driver Mr Keiichi Tsuchiya describe it as the strongest tire in history. This time's launch in Hong Kong will quickly become a great hit.
POTENZA RE-11 has much better dry circuit time than its predecessor RE-01R. Both its fastest lap and average lap on Ebisu East circuit (2,061m) are around one second faster than RE-01R. After 43 laps, the lap time is even 1.2 second faster. This is the result of improvement on the performance durability. Needless to say, POTENZA RE-11 is suitable for driver looking for top dry performance in the street or those running in the circuit.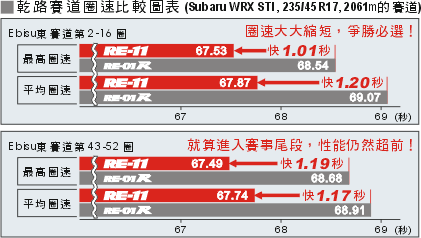 Beside dry performance, wet performance of POTENZA RE-11 is also outstanding. When driving at 80km/hr in the 2 mm deep water, the stopping distance of new RE-11 is 0.8 meter shorter than RE01R. When both tires has worn down to 50%, the stopping distance of RE-11 is 1.9 meter shorter than RE01R. Hence, drivers can be granted better safety on day-to-day driving on the street.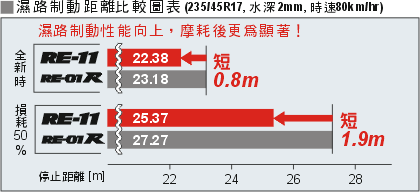 The POTENZA RE-11 is the first Potenza street tire to incorporate Bridgestone's 3D Seamless Stealth technology originally introduced in their Formula 1 and GP2 racing tires. The Potenza RE-11 features an asymmetric tread pattern that combines massive outboard independent shoulder blocks interlocked with a notched circumferential intermediate rib that provides the lateral stiffness needed to enhance steering response and increase dry cornering traction. Inboard, a continuous intermediate rib and notched shoulder rib are separated by wide, straight circumferential grooves that provide water evacuation to resist hydroplaning and enhance wet traction.
All in all, the POTENZA RE-11 is an extreme performance tire developed for enthusiastic sports car, sports coupe and performance sedan drivers. The POTENZA RE-11 is designed to combine traction, handling and driving control. It is professionally tuned for dry and wet conditions.

To experience the charm of the strongest street tire, or its full power in the racing circuit, RE-11 can now be bought at various tire dealers. A total of 21 sizes from 185/60R14 to 235/35R19 are available. Details as below: